Housed Spring Isolators | Model SL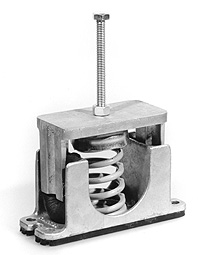 Model SL spring vibration isolators consist of high deflection, color-coded stabile springs assembled into telescoping cast iron or aluminum housings which are complete with a 1/4″ (6 mm) thick ribbed noise isolation pad bonded to the lower load surface and with an adjusting and leveling bolt as a part of the top assembly. Slots or holes are provided in all isolators for bolting to the structure. Model SL spring isolators are designed with a pre-adjusted snubbing feature to reduce movement during start-up and shut-down. Model SL spring isolators are available in deflections up to 1.84″ (47 mm), and with load capacities from 35 to 3500 lbs. (16 to 1588 kg). Springs are polyester powder coated, with a 1000 hour salt spray rating per ASTM B-117. Model SL spring isolators are typically used to isolate vibration produced by mechanical, industrial, or process machinery where more damping is required and less motion can be tolerated than with free-standing spring isolators. Internal leveling can be provided as an option, as can molded fiberglass noise pads.
Application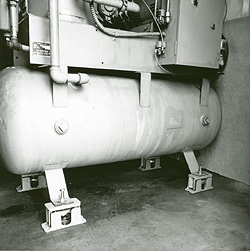 Model SL housed spring isolator mounts are used to isolate high and low frequency vibration generated by floor-mounted mechanical equipment located in non-critical areas.
Model SL mounts are typically used to isolate lightweight mechanical equipment, having lowest operating speeds of 1200 RPM, located on grade supported slabs, or short structural floor spans, when the isolator-to-equipment connection is such that a leveling bolt can extend above the mount and act as a leveling and attachment bolt for supported equipment.
Model SL isolators are also available as model SLI and model SLP.
Model SLI isolators are used as above except that connection to supported equipment must be by a flat friction plate and level adjustment must be internal to the mount to allow access to adjustment bolts.
Model SLP isolators are used as above except that connections to equipment require a centering pin and level adjustment must be internal to the mount to allow access to adjustment bolts.
Specifications
Vibration isolators shall be housed springs, and shall consist of a steel spring and load cap housed in a cast semi-steel or aluminum assembly, with sponge neoprene snubbers designed to stabilize the isolators and prevent metal-to-metal connection of top and bottom housing sections. The top housing section shall be drilled and tapped and shall include a steel load transfer plate and leveling bolt, and locknut. The bottom housing section shall be bonded to a 1/4″ (6 mm) thick ribbed neoprene noise isolation pad and shall be slotted to allow bolting to the supporting structure.
Spring elements shall have a lateral stiffness greater than 1.0 times the rated vertical stiffness and shall be designed to provide a minimum of 50% overload capacity.
Springs shall be selected to provide operating static deflections shown on the vibration isolation schedule or as indicated on the project documents. Springs shall be color coded or otherwise identified to indicate load capacity.
---