Inline Seismic Pump Stands (PS)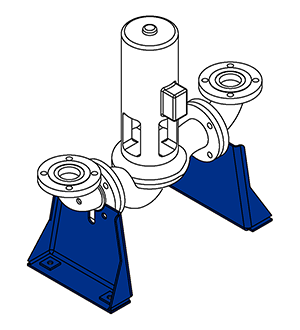 Inline pump stands are fabricated from structural steel members that can be welded, bolted or anchored down to the building structure via pre-located anchor bolt holes. Model PS features a rigid frame that maintains the proper height and alignment during install of the piping and inline pump. Pump Stands are available in configurations to support pumps sizes from 1-1/4″ to 10″ and can provide up to 2.0G in seismic restraint.
Features
Standard configurations based on inline pump flange sizes
Stands have the ability to be customized to meet the most severe seismic and wind restraint requirements
One piece design for ease of installation with no additional welding required in the field
Application
Inline Pump Stands are engineered to provide seismic and wind restraint for inline pumps. The stands utilize a structural design that supports and restrains the inline pump and the associated piping to meet the latest seismic and wind restraint requirements.
Pump Stand Selection
Contact Senior Flexonics for proper Pump Stand Selection that meets your project requirements
Specification
Model PS inline pump stands are fabricated from ductile steel components, welded together to provide the support of an inline pump and to meet the seismic and wind restraint requirements as needed, per building code. Stands must be capable of providing up to 2.0G of seismic restraint without intermediate supports.
---