Rubber Expansion Joints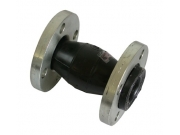 Senior Flexonics stocks and distributes a comprehensive range of rubber expansion joints for use in many tough, demanding industrial applications such as air conditioning, heating and ventilation systems, petrochemical, industrial process piping systems, power generation, marine services, paper, water and sewerage
systems.
Senior Flexonics standard rubber expansion joints feature an engineered sphere design bellows which is inherently stronger than the hand fabricated old standard cylindrical shapes. Internal pressure within a sphere is exerted in all directions distributing forces evenly over a large area.
The spherical design "flowing arch" reduces turbulence, sediment build-up, thrust area and the effects of thrust on the piping system equipment when compared to the
"high arch" design.
Standard stock units in styles 101 and 102 are constructed from EPDM rubber inner liner and outer cover, with an embedded nylon cord reinforcement and wire reinforced flanged collars. Floating flanges allow for easy installation and alignment of bolt holes.
Other materials and styles of rubber flexible joints are available on request or can be designed to meet customers' specific requirements.
Learn more about Rubber Expansion Joints
---