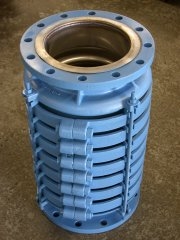 High Corr Expansion Joints are available in two styles: Free Flexing and Controlled Flexing. High corr bellows are hydraulically formed to produce superior fatigue life and maximum strength for severe service applications. This product provides an excellent means of absorbing large pipe motions (up to 7-1/2″).
Free Flexing
Free Flexing Expansion Joints are widely used in process and steam piping applications to 50 psig. In addition, the Free Flexing joint is recommended for compressor connections, engine intake and exhaust piping, ventilation and pump suction or discharge lines.
Controlled Flexing
Controlled Flexing Expansion Joints combine the free flexing bellows design with mated neck rings and control rings between each convolution. This rugged construction reinforces the bellows for higher pressure applications. With an external cover, this expansion joint provides a high degree of safety for the most severe operating conditions.
Learn more about High Corr Expansion Joints