Externally Pressurized Joints
Senior Flexonics Canada Controlled Flexing Expansion Joints combine a corrugated pressure carrier with closely mated neck rings and reinforcing or control rings. This construction permits their use with higher pressures (150 psig and 300 psig) in applications where large amounts of axial movement are required.
Dual expansion joints are available for applications where movement is greater than can be absorbed by a single unit. Contact factory for design information.
How to Order:
Example P/N

PDF Reference Guide Single & Double Externally Pressurized Expansion Joints
---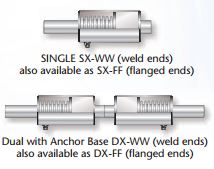 SX and DX Data
Size Range – 2″ to 11″ *NPS
Allowable Pressure Stainless Steel Bellows – Vacuum to 300 psig
Temperature Limits Stainless Steel Bellows – -20°F to 800° degrees F. **
Axial Traverse – To 8″ (SX) & 16″ (DX)
* For sizes larger than 12" consult factory for information. **With special alloys, temperatures of minus 300°F. to plus 1600°F. can be handled.
Materials of Construction
Bellows: A 240-304
Other Materials Available
Flanges: A-105/A516-70
2" thru 12" 150 lb.
& 300 lb.
R.F.S.O. B16.5
Pipe / Shell: A53/106 Gr. B or A516-70
2" thru 10" Sch. 40
12" Std. Wall .375" thk.
Rings: A285 GR. C or A516-70
Anchor Base: Carbon Steel
(Standard on NDX)
Drain, Vent Ports: Carbon Steel
---