Pipe Stress Analysis & Design
Need peace of mind with your piping system?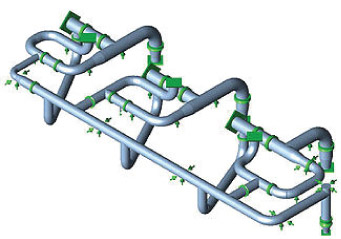 Pipe Stress Analysis and Piping design is critically important to ensure a safe installation system.
Senior Flexonics Canada provides this service to complement our flexible connectors and be your one stop piping systems solution provider. Senior Flexonics Canada has been recognized as the expansion joint and hose leader in Canada since 1952.
Why worry about your Piping Design? Senior Flexonics Canada can provide Pipe Stress Analysis, and offer Engineered Solutions for all of your pipe movement requirements. Call us to arrange a (free) consultation with one of our piping experts.
ISO9001-2008 + AS9100C Registered
All products are CRN Registered
Senior Flexonics Provides Service for:
Engineered Metal Expansion Joints
Fabric Expansion Joints
PTFE Expansion Joints
Rubber Expansion Joints
Dampers
Metal Hose Assemblies
Steam Jacketed Hose Assemblies
PTFE Hose Assemblies
Composite Hose Assemblies
Expansion Compensators
Pipe Alignment Guides
Cryogenic Manifolds
Cryogenic Fittings
Cryogenic Tank Repair
Vacuum Jacketed Pipe
Vacuum Jacketed Hose Assemblies
---