Over 100 years of Innovation
For over 100 years, Senior Flexonics has developed innovative products and processes to meet and/or exceed our customers' needs and requirements. By applying these competencies to our customer's challenges, Senior Flexonics has evolved into a multi-industry corporation spanning the globe. We invite you to learn more about our capabilities.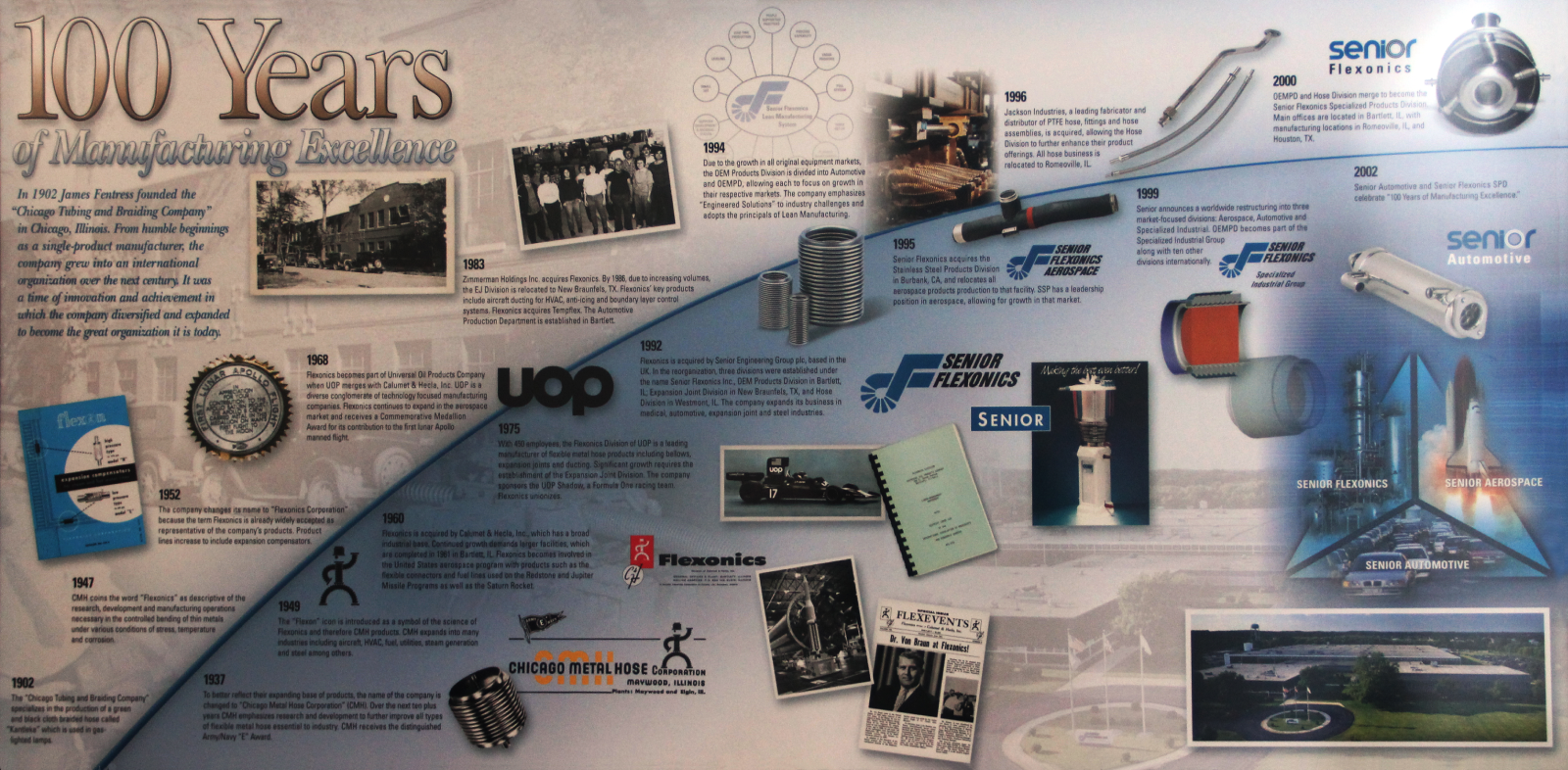 A History of Innovation
By the mid-1950's, Flexonics had achieved many industry "firsts":
First to make stainless steel hose
First to make stainless steel bellows
First to make multi-ply stainless steel bellows for high pressure
First to make high-strength, butt-welded thin wall stainless steel ducting
First to make deposition-formed, one piece, thin wall duct components such as elbows, tees, manifolds, and transition pieces that replaced casting and half shells welded together
First to furnish insulated ducting sheathed and sealed
First to completely design, manufacture and qualification test an entire high temperature aircraft duct system for heating, ventilating, refrigeration, anti-icing and boundary layer control systems
First supplier to install complete pneumatic duct flow facilities for environmental testing of components and complete aircraft ducting systems
Flexonics is a subsidiary of Senior plc., a worldwide conglomerate supported by over 6,500 employees in 11 countries on five continents.
A Reputation For Excellence
Senior Flexonics' reputation for excellence is based on its commitment to continuous business improvement and customer service.  We strive to continually improve the operation of our business so that we can serve our customers better.
We take the time to fully understand our customers' markets, operations, and requirements.  Our approach is proactive, so we can anticipate customers' needs, not just respond to them.  Establishing "partnerships" with our customers is one of the key elements of our success.