Welded Metal Bellow Benefits:
Edge welded bellows are ideally suited for high cycle life applications requiring stroke in a constrained envelope.
Stroke Comparison of Edge Welded Bellows:
Stroke of edge welded bellow
Stroke up to 90% in compression
Stroke up to 30% in extension
Stroke of a typical formed bellow
Flexibility characteristics of an Edge Welded Bellow:
Flexibility
Edge welded bellows are capable of softer spring rate
Axial, angular and radial
How Edge Welded Metal Bellows are manufactured:
Welded diaphragm metal bellows are composed of two contoured diaphragms – each constructed from thin stainless steel – are welded at the inside diameter to form a convolution. Capsules are formed when convolutions are stacked on a horizontal arbor and welded at the outside diameter.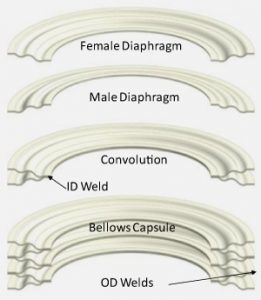 Edge Welded Metal Bellows Terminology: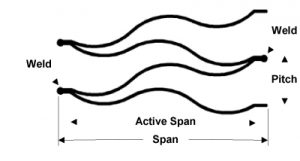 Types of Edge Welded Metal Bellows:
Resting Ripple Bellows:
Most welded diaphragm metal bellows have a nested ripple diaphragm configuration that provides maximum stroke, minimum stress, superior flexibility, and full nesting when collapsed or compressed.
Long Stroke Capability
Compact Nested Length
Good Linearity
Moderate Pressure Capability
Single Sweep Bellows:
Customized bellows, including those with flat plate, single sweep, and torus contours are available for special applications.
Good Pressure Capability
Good Stroke Capability
Compact Nested Length
Good Linearity